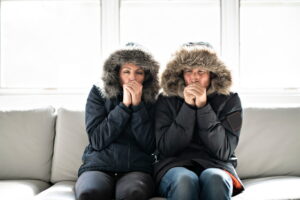 It's not supposed to go like this. You know it's not. You have a central heating system for your house so you can warm up all the rooms at the same time. But now when your heating system comes on, there are rooms that aren't getting warm enough. Some may feel like iceboxes. Yet other rooms are fine. 
There are always going to be some irregularities between room temperatures in a house, but what you're experiencing now is uneven heating coming from the HVAC system. That is a major warning that something is amiss.
That's what we're about to investigate. For solid answers, you'll need to call on our professional HVAC technicians. We'll find out what's wrong and get it fixed.
The air filter is clogged
One of the common sources of problems for a forced-air heater like a furnace or heat pump is a clogged air filter. This filter is designed to protect the system from dust and other debris that flows through the return air ducts. But after one to three months, the filter will become so congested that it will reduce airflow, and that means less airflow into the house. The more distant rooms won't receive as much heating. Change the filter if it's clogged to see if that helps the system.
The thermostat is malfunctioning
A thermostat can start reading false temperatures in the house and may sense the house is warmer than it really is. If this occurs, the thermostat will shut the heater down early, before it has had time to send enough heat to the more distant parts of the house. Don't keep raising the thermostat to try to overcome this problem, as that puts more strain on the heating system. It takes professionals to recalibrate the thermostat. 
There are damaged, leaky ducts
Here's a problem that is outside of the heater itself and in the ventilation system. Air leaks in ducts are one of the most frequent causes of cold spots in a house. Not only does hot air escape through the leaks on the way to the vent, lowering the heating for that room, but the leak will cause a general loss of air pressure in the ventilation system that will put the heater's performance in jeopardy. You'll need pros to locate and seal the leaks or whatever duct repairs are required.
The heater is dying
Unfortunately, cold spots in a house can be an indication that the heating system is reaching the end of its service life. In fact, it's one of the big indicators we use when judging if a heater is starting to fail. If your heater is over 15 or even 20 years old, then this cold spot problem is probably an ancient heater problem, and the best course is a new system.
When it comes to heating in Tallmadge, OH, we're the experts to trust for fast and thorough service. We're family-owned and offer a full satisfaction guarantee.
Crown Group Ohio: Your Comfort Experts Since 1963. Schedule heating service with us if your house isn't as warm as it should be—or isn't warm at all!