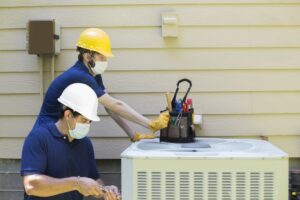 A brand new air conditioning system is a big investment in your home, which is all the more reason why it's imperative to have it installed correctly and avoid problems. If you're not sure how to find the right contractors for the job or even how to schedule air conditioning installation, we'll walk you through the process.
Search Local
Local companies understand the climate, humidity, conditions, and other relevant information that helps them find the best air conditioner system for you. With your budget in mind, they'll help you find what works best for your home.
Local companies (like us) build their reputation up over a period of decades. This incurs online reviews (the good and the bad) and loads of anecdotal information for you to filter through. It helps you determine if a company is right for you in a few ways.
Local searches help you find out if a company is under new management or not. If there are previous reviews from before the new management start date, you can disavow those. It's hard to find informational reviews from people who have actually been through the installation process, but worth it.
You can determine if their customer service and success stories match what you're looking for in an HVAC company.
If you choose local, you can even get reviews from your friends and family. Word of mouth is still the best way to find out if a company sounds like the best fit for you since it comes from the most trustworthy source you have at your disposal. Nobody will give you a more thoughtful recommendation than the ones you love.
Ask for Quotes
With a basic idea of what you want, it's time to call and ask for quotes on the project. Be ready to answer a few questions about your home so that you can get an estimate on the size and power of the air conditioning unit that you'll need.
When you call to ask for quotes, ask for a breakdown of the costs (and realize that this is an estimate and may be subject to change, but that's as close as you're going to get for now):
Installation Price (Including the Unit): This is the sticker shock: the price of the air conditioner unit. Find out how much it's going to cost to install it and the actual unit price itself, but be prepared.
Labor Costs: Someone's getting paid to install the unit, and prices can vary. It's important to know exactly what you're getting into, so ask about labor costs.
Any Additional Fees: We don't hide costs, but some companies have been known to do it in the past. When you get the full quote, ask about any additional fees that weren't mentioned during the rest of the call.
Schedule Your Air Conditioner Installation Today
Now that you know everything about the process, it's time to make a move. Call us today, request a quote, and we'll help you get started with your air conditioner installation.
Contact Crown Group Ohio today to schedule your air conditioner installation and restore your home's comfort.