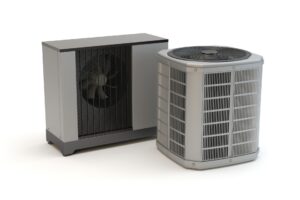 Choosing the right air conditioning unit for your home or business can be a daunting task, especially if you're not familiar with the different types of AC units available. Let's explore some of the most important air conditioning installation factors to keep in mind when selecting your next AC unit.
Type of Air Conditioner Unit
It's not as simple as, "I want cooler air." How do you want it? Which system makes the most sense for your preferences, home, and family?
This is the first step because until you know how you want your home cooled, you can't really proceed. Choose from geothermal systems, heat pumps (which do provide heating as well), ductless mini splits, or central AC. Learn about the pros and cons of each before making your decision.
Cooling Capacity
We measure the capacity of air conditioners and heaters with British thermal units or BTUs. If you've ever purchased a window air conditioner or space heater before, you may remember a BTU rating on the box.
The more BTUs, the higher capacity that unit has. The reason this is important is because you don't want an air conditioner that has too few BTUs for your home. Otherwise, it will work to cool your space, not meet demand, and run continuously until it burns out.
Energy Efficiency
New appliances should come with improved energy efficiency over old models, but it's not so black and white. One brand of air conditioner may be more efficient than a rival brand, even if those AC models were made in the same year.
Once you know what your energy goals are with your new air conditioner, you can approach which air conditioner you want based on its energy profile.
Determining the Installation and Maintenance Schedule
Now that you've chosen the parameters of what a good AC system looks like for you, it's time to figure out installation. An air conditioner installation can take a full day, sometimes two or more if you need completely new ductwork.
This is why a pre-installation appointment is made. That way, a technician can make sure the sizing for your new AC makes sense and they can plan out how the installation will go.
Once the installation is complete, you need to schedule annual maintenance. Without maintenance, your air conditioner can easily fall into disrepair (and it can happen much faster than you think). Planning a maintenance schedule from the moment of installation is critical to the longevity of your air conditioner.
Choose Wisely
Choosing the right AC for your home is an important buying decision, one that can't be swapped out for years (unless you want to throw money down the drain). It's important to get it right the first time.
Let's get an HVAC technician out to help size the right AC for your home as soon as possible and make sure you're making the best possible investment in your home that you can.
Contact Crown Group Ohio today to schedule your next AC unit installation as soon as possible.