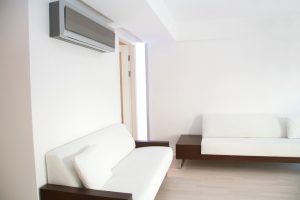 We are proud to offer the best products for HVAC available on the market. One product we often recommend is the Daikin mini system. These are types of ductless mini split heat pumps, and they have the potential to change the way you view home comfort. If you are interested in ductless mini splits in Akron, OH for your house or new home construction, please call us to learn more about Daikin mini splits.
The Ductless Mini Split Basics
First: what exactly is a ductless mini split?
It's a type of heat pump, and like other heat pumps, it's capable of providing both heating and cooling to a home by circulating refrigerant through sets of indoor and outdoor coils. But what makes the ductless mini split different is in the name: no ductwork required.
Rather than blow cooled/heated air from a single set of indoor coils into a ventilation system of ducts, mini splits use multiple sets of indoor coils and blower fans housed inside small units. These units are mounted on the walls of different rooms around the house. Their refrigerant lines and power lines extend through the back of the wall to connect to the outside cabinet. Each of these room units sends conditioned air directly into the living space. It's something like the way a window AC works, but it doesn't take up a window, doesn't push through the wall, and is much more energy-efficient and powerful.
Why consider a ductless system?
A Daikin mini split isn't right for all homes; a house that already has ductwork may be better off with a standard heat pump. But ductless systems offer special benefits for certain situations:
Lower energy consumption: Ductless mini splits have smaller motors and use less power than split system heat pumps. They also have less heat loss and heat gain because there's no ductwork. This adds up to lower energy consumption compared to a conventional ducted heat pump.
Flexibility for older homes: Older houses often have no ductwork at all, making it necessary to use window ACs for cooling. A ductless system makes the conversion to central cooling easy, with minimal changes to the house.
Zone control: Each room unit of a ductless mini split system can be turned on or off separate from the other units. Only units in occupied rooms need to run. This is another way that ductless systems can cut down significantly on use and reduce costs.
Improved indoor air quality: Here's a benefit of getting rid of ducts you may not have considered. Ducts collect dust and other contaminants, then blow them out when the blower comes on. With no ducts, a house has less dust circulating.
Fix problem cooling and heating spots: For homes that already have ducts, a ductless mini split can be an add-on to help target areas of the house that are often too hot or too cold. They're also a good solution to add-on rooms or garage and attic conversions.
Crown Group Ohio: The Comfort Experts since 1963. Call us to find out more about Daikin mini splits.