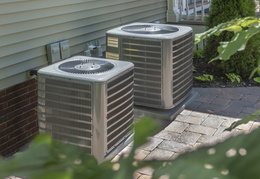 Shopping for a new air conditioning system for your home, or planning on a replacement AC in the near future? Navigating all the statistics for an air conditioning system can be difficult unless you're an HVAC professional. Of course, that's why you have HVAC professionals around to help you with getting a new air conditioner! We're local experts in air conditioning installation in Akron, OH, and if you're looking for an AC installation or replacement, get us on the job early so we can help you figure out all those stats … like SEER ratings.
You may know that SEER (seasonal energy efficiency ratio) is a measurement of how energy efficient an air conditioner's operation is. Therefore, a higher SEER number means a better system that will save you money. Except that's not always the case. If you are lured by the siren call of the high SEER rating, you may end up with a system that's completely wrong for your house.
SEER Is Not a Guarantee of Savings or Performance
The basics of SEER is that it's the ratio of the air conditioner's cooling output to electrical use as measured over a season. The higher the SEER number, the less electricity the system uses under a range of tests compared to its cooling. However, this only shows what the air conditioning system is capable of when working at its best. It's not a guarantee it will work at its best all the time. In fact, it won't.
An easy comparison to make is to think of a car. Just because a car can potentially go 120 mph doesn't mean it will always go that fast. (It probably never should!) SEER isn't so extreme, but if you buy a 21 SEER air conditioner, which is a high-efficiency system, it won't always operate at 21 SEER and will often perform at lower efficiency. Its maximum is 21.
An Oversized System Isn't a Good Thing
Another factor to consider is the size of the air conditioning system. This is a factor that will outweigh any high SEER number and make the AC wasteful. An air conditioner that is too small for the house will run continuously. Even if it's running at its peak SEER, it's running too much and will be a tremendous energy drain. An oversized AC will get stuck in a start-stop mode so the AC will never get close to its SEER rating and waste extra power because it's starting up too much.
High efficiency is great. We recommend you look for an AC that meets the ENERGY STAR program's requirements for SEER (currently it's 15 SEER or above for air conditioners). You may wish to pay more for a higher SEER unit. But make sure you're informed of all the other factors involved in air conditioning installation by working with professionals. This is the only way to ensure you get the maximum in performance and efficiency from the unit. Otherwise, you may be throwing money away on features that won't reward you. Leave the work to our professionals when it comes to new air conditioner installation.
Crown Group Ohio serves Stark & Summit Counties. Call for 24/7 comfort assistance.