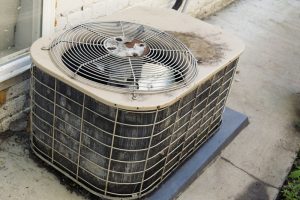 Before the summer arrives, we recommend you take the time to survey your residential air conditioning system. Is your current one still running at the level you need it to? Or is age catching up to it? Are you ready to upgrade to a new system even if your current air conditioner is still doing the job?
It's tricky to make a choice about something as big and important as an air conditioning replacement in Akron, OH. But when you have the backing of experts like ours, as well as the excellent brands and warranties we offer, you can feel more at ease about making the choice. We back up all our work with a full satisfaction guarantee.
Deciding When Repairs Are No Longer Enough for the AC
The best way to find out if you're ready for an air conditioner replacement for your house is to call our technicians for a consult. They'll analyze the system and give you an expert opinion on whether your AC can be repaired to work effectively for a few more years or if it's time to put aside the repairs and put in a new system.
We can offer you some guidance here to help you start thinking about the future of your air conditioner.
System Age
Central air conditioners usually last for 10 to 15 years before they become too expensive to run and repair. The number will drop if the AC doesn't receive regular maintenance (which is why we offer membership in a maintenance program). When your AC is in the 10–15-year range, pay closer attention to other warning signs that it's time to retire it. An AC over 15 years old is probably ready for a replacement.
Repair Frequency
An air conditioner can enjoy years of repair-free operation during the early years of its service life. As it ages, it will require more and more—until it reaches a point where they are too frequent and expensive. You shouldn't need to have more than one repair for your AC a year. If it's more frequent than that, the air conditioner is informing you its near the end of its lifespan.
Repair Costs
Along with too many repairs are repairs that cost too much. A cumulative cost of $500 annually to keep the AC running is too steep. A single repair that costs more than 50% of the price of a new system is too steep. Any repair where the cost of the repair times the age of the system is greater than 5,000 is too steep.
Rising Utility Bills
A fading system will have enough wear-and-tear on it that it will cause summer utility bills to rise. If you're paying far more to cool your house than you once did, it may be time to say farewell to your aging air conditioner.
The Amana Private Label Program
We can offer you systems with the best warranty and coverage—10-years parts and 10-years labor—through the Amana Private Label Program on Crown systems. We are also Lennox and Carrier dealers, so we can offer you the best systems and warranties. Talk to one of our team members today to learn more about your options for a great air conditioning replacement.
Call on the Crown Group Ohio—comfort experts since 1963.