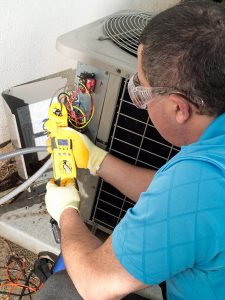 The start of spring means warmer days—and an occasional swing back to cold days—and a time when people start thinking about preparing for the summer ahead. And that means it's time for homeowners to schedule their annual tune-ups and inspections for their air conditioning systems.
We can't stress enough the importance of spring air conditioning maintenance in Akron, OH. It benefits your cooling system, your comfort, and your bills in both the short and long-term. It isn't a job you can do on your own, either. You want our NATE-certified technicians to handle the job. They'll do the work thoroughly so you get all the benefits of regular maintenance. We are a customer-focused, service-oriented company, and we always aim to leave our customers with the best experience possible.
The Crown Comfort Club Is the Key to Great HVAC Maintenance
You don't have to worry about remembering to call a contractor each spring for your air conditioning maintenance. Instead, you can join our Crown Comfort Club, which has all HVAC maintenance needs (your heating system as well) packaged into one plan. Membership in the Crown Comfort Club also offers you additional bonuses along with the major benefits of regular maintenance.
First, let's look at maintenance benefits:
Extended equipment life: Although you shouldn't attempt to keep an air conditioner running many years past its prime, you can still expect to get 10 to 15 years of solid, effective service from it, which is about twice as long as the AC would last without maintenance.
Fewer repairs: Studies have shown that around 85% of the repairs an air conditioner may need over its service life are preventable thanks to maintenance. All the service we provide to clean, adjust, tune-up, and check an AC system goes a long way toward preventing malfunctions of all types.
Higher capacity: An air conditioner that has the best care will return the favor with the best performance. Your air conditioner will keep your house cool the way you expect, rather than gradually becoming less effective.
Improved efficiency: An AC that's allowed to deteriorate year after year will become much costlier to operate. You may end up paying 25% more to run the system than you should if you don't keep current with maintenance.
Warranty protection: The warranty for your AC may be voided if you don't have it regularly maintained. Losing warranty coverage can leave you stuck with a big repair bill or a replacement that you wouldn't have otherwise had to pay.
Peace of mind: It's simply good to know that your AC has very little chance of breaking down on your during the peak heat of summer.
What are the additional benefits the Crown Comfort Club offers?
Half-off price for service calls
15% off repair costs
Priority service over non-members—and that includes our busiest times of year
Take the next step and call us to sign up. We'll be glad to provide you with any details you wish. Our years of experience and size allow us to provide our customers with an unmatched level of service.
Crown Group Ohio is a family-owned company serving Stark and Summit counties. Speak to us today to sign up for the Crown Comfort Club.