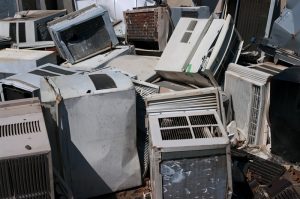 As much as you'd love for your current air conditioner to last for as long as you own your house, the stress on an AC will eventually catch up with it. Even with the best regular maintenance, you can expect the system to reach a point where it's more cost-effective–not to mention more comfortable–for you to have a new system put in rather than pay for yet another repair.
But aside from the air conditioner suffering from a catastrophic breakdown, how will you know when it's time to leave aside AC repair in Akron, OH, and arrange for a new installation?
We can help!
Understanding Signs of an Over-the-Hill AC
There are a number of ways to tell an air conditioner is at the end of the road and that repairs aren't worth it anymore.
First is the age of the system. This isn't an absolute, but the average service lifespan of a central air conditioning system is between 10 to 15 years. An AC that receives regular maintenance and prompt repairs should be able to get to 15 years. But if your AC is older than this, we recommend replacing it, even if there are no other major signs of problems.
Another measuring stick for AC replacement is the cost and frequency of repairs. You shouldn't need to schedule repairs for the system every year, and if you are, it's too high a cost–not to mention a warning the system may permanently fail at any time. For any individual repair, any repair quote that's more than half the price of a new system is too expensive. Check with your technician regarding the cost of a repair vs. the cost of a replacement.
Third is the annual cost of operation. Is the air conditioning system more expensive to run each summer than in previous years? Take a look at the bills over the past few summers to see if there's an upward trend that has nothing to do with the cost of electricity. An air conditioner in the last two years of its service life will see a drop in its efficiency and a rise in costs. So when you notice utility bills begin to mount, it's time to ditch the old system.
Finally, are there special features of a new AC you really want? If you have an old air conditioner and think you'd get better comfort and savings from switching to a special high-efficiency unit with zone controls, then go ahead and get it! We offer financing and the best warranties to make it easier.
We're the Replacement Pros!
We offer the Goodman / Amana Private Label Plus Program, so we can give you the systems with the best warranty coverage (10-year parts and 10-year labor) through the Amana PLP program. We're the local contractor you can trust for the best when it's time to replace an AC.
And if it turns out that a repair is the better route … we'll take care of that too!
Crown Group Ohio serves Stark & Summit Counties. Call us 24/7 for repairs or to schedule other AC services for your home.