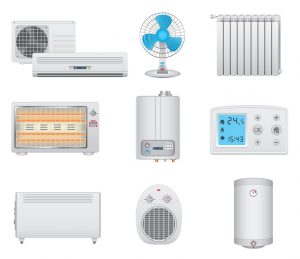 When the time comes for you to replace your old residential air conditioning system, what's the best way to get a new one? Buying a new AC isn't like shopping for almost anything else. You can't just put together a list of features you want and purchase whatever one "seems" right. Air conditioning replacement in Akron, OH requires working with professionals who will help you find the ideal make, model, and size of AC. Once you've taken care of that part, you can let the HVAC pros handle the actual job of installation.
The Correct Air Conditioning Size Is Critical
One of the reasons you want to have certified HVAC professionals involved in the installation from the start is because they can take care of sizing the air conditioner. This is one of the vital steps for getting a new AC, because if it's done incorrectly, it will mean a system that won't work in your house the way you want it to, and it will probably need to be replaced after only a few years.
But what does sizing mean? It doesn't refer to how physically large the air conditioner is, but how much cooling it is able to provide. Non-professionals often make the error of believing that its better to get an AC that's too powerful, since it can just be turned down if it feels too cold.
But this isn't how air conditioning works. An oversized system will lower temperatures too rapidly, causing the thermostat to incorrectly register that the cooling cycle is over and shut off the AC. This leads to short-cycling, which traps the AC in a perpetual start-up cycle. It drains power and rapidly ages the system. It's as bad as an undersized air conditioner.
To find the proper size cooling system for a home, our technicians perform a load calculation that determines how much cooling the space needs for comfort. Once we've done this, we'll know how many tons of cooling (a measurement of cooling power) an AC must produce to meet comfort and energy-saving requirements.
We Offer Top Warranties From the Best Manufacturers
We are a customer-focused, service-oriented company with an A+ rating from the BBB, and our technicians are NATE-certified to ensure you receive only the best workmanship on any installation. We can also offer you systems with the finest warranty coverage through the Amana Private Label Program: 10 years on parts and 10 years on labor. We are also a Lennox and Carrier dealer—you can trust that we'll locate the ideal unit for a comfortable home for many years to come.
We are always busy helping the community with installations, visiting an average of 425 homes a week with 30 installation teams. We back up our work with a full satisfaction guarantee. If you ever have any trouble with your cooling system during the summer, we have 24/7 emergency service available to see that you have a cool house once more.
Call Crown Group Ohio today to schedule your air conditioning service and find out more about our Amana Private Label Program. Comfort experts since 1963!