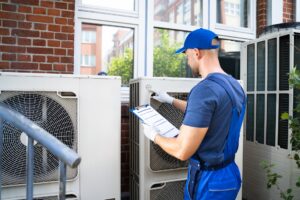 Your air conditioner is on the fritz, so what do you do? Do you call and get it repaired again, or is it time to bring in a new unit to take care of the job? One way or another, you need something to cool down your home–let's help you figure out what to do.
With our AC services in Hudson, you can either replace or repair your air conditioner, but you don't want to prematurely spend a lot of money to put a new unit in. Therein lies the rub, so let's help you figure it out right now.
Let's Take a Look at the 50% Rule First
The 50% rule is basically what determines whether you should repair your current air conditioner, or just replace it with a new unit. If your AC breaks down and you call for repairs, and those repairs are much higher than you expected, this is your first red flag.
When the repair cost is 50% or more than the price of a brand-new air conditioner unit, that's when you should just replace the old thing. It's not efficient to keep paying expensive repair bills on a unit that's clearly at the end of its rope.
You Have to Take Efficiency Into Account
HVAC technology advances. Air conditioners become more energy efficient as time marches on, and you're left with a less efficient unit than the new systems on the market. Plus, wear and tear will drive down your air conditioner's efficiency rating over time (which is to be expected with just about anything you own).
Look at how much energy your air conditioner uses, then compare it to the anticipated energy rates of a new air conditioner that adheres to the SEER2 standards. What do you see? How much lower could your bills be? Take it all into account.
After 10 Years, You Need an AC Exit Plan
That air conditioner isn't going to last forever. If it's in good repair, but it's hit that 10 year mark, it's time to start planning for a replacement. ACs are rated for around 10-15 years on average, and while you'll find plenty of anecdotal information about air conditioners that last longer, don't assume that's the case with every single unit.
If your AC gives out on you and you have to replace it anyway, it's important to have a backup plan. The age of your air conditioner plays a heavy role in determining whether or not you're going to repair it, or just replace the thing.
Repair Vs Replacement
If your unit isn't completely dead in the water, that's good, but keep in mind that poor efficiency is a good reason to replace your air conditioner as well. Weigh the pros and cons, look at the age of your current air conditioner, and pin the pros against the cons. It'll become clear soon enough and you'll make a great decision that will benefit your home and your family.
Contact Crown Group Ohio today to schedule your air conditioner repair (or replacement) as soon as possible.