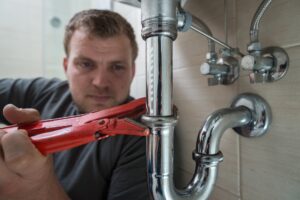 Plumbing problems come and go, but some of them are more disruptive than the last. It's important to know which ones you're supposed to call the experts for, and which ones you can handle yourself. Today, we'll focus on the big issues that require an experienced set of hands.
When you're looking for plumbers in Akron, it's for a good reason. Let's talk about what those good reasons might be so you know you're not worried about that plumbing problem for nothing.
Burst Pipes
No amount of plumbing putty is going to hold for long. Even if you manage to plug up a burst pipe, you need to call for an experienced plumber (preferably in an urgent manner) to actually fix the pipe.
They'll shut down the water, and if they can't repair the pipe, they'll replace that section and ensure it's sealed up and ready to go. You can't afford water leaks ruining your home–it can ruin cabinets, floors, and cause five-figures worth of damage faster than you think. It's worth the price of an emergency plumbing visit.
Backed Up Sewer Line
You'll smell this right away, and there's a good reason you can't DIY your way out of this one–it's biohazard material. Human waste and sewage need to be dealt with by plumbers who know the risks, how to mitigate them, and have the proper protective equipment to handle disasters like these.
Sewer line repair has come a long way and doesn't have to be as invasive as it was in the past (depending on the specific situation). While you may already be racking up dollar signs and think that you can save by fixing a sewer line problem on your own, it's not only ill-advised, but it could be dangerous.
Let us fix your sewer line as quickly as possible so you can get back to enjoying your home and without that horrible smell. It's not a small task by any means.
Gas Line Problems
Plumbers install, maintain, and replace gas lines just like we do with water piping in your home. A faint hissing noise in your kitchen or the smell of rotten eggs signals that there's a gas leak–that means don't light any candles and don't fire up your cigarette.
And, don't attempt to fix a gas line leak on your own. Contact a plumber right away, get us out there to fix your gas leak, and remove the hazard. Gas line issues require protective equipment to tackle, specialized tools, and a lot of industry knowledge (and precaution) to get it done right.
Time for the Expert Touch
We're ready to help you as soon as possible. Simply give us a call and learn what the difference is between a DIY approach and a more experienced set of hands. We've seen just about everything at this point; we'll be able to help you with your plumbing problems so you won't have to worry anymore.
Contact Crown Group Ohio today to schedule your next plumbing repair, inspection, or maintenance appointment as soon as possible.