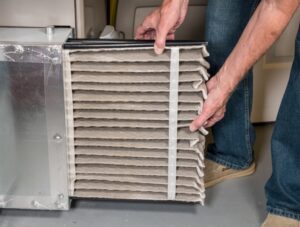 How often do you think about the air quality in your home? Indoor air quality has its own set of issues that often makes it more dangerous than breathing outside air. You need an in-home defense against airborne pollutants.
Fortunately, it's possible to drastically improve your air quality with a simple addition to your home. An air scrubber in Uniontown, OH is exactly what you need. Let's talk about the benefits of air scrubbers in your home.
Air Scrubbers Can Use UV Light to Kill Germs
UV light destroys germs. Currently, your HVAC system pulls air through a filter and traps large particles such as pet dander, dust, and debris. Some of those particles still pass through your air filter and recirculate into your home.
This isn't an argument against air filters, but instead, a stark observation between filtration and scrubbing. Filters and scrubbers work in tandem to provide better air quality throughout your home.
Air scrubbers can use UV light to kill germs that make it through your air filter, like a second line of defense. UV light works with titanium rods embedded inside of your air scrubber to kill germs and clean the air that runs through your HVAC system. Standalone air scrubbers have their own air filtration system and will require their own filters.
Whole House Systems or Portable Air Scrubbers
You can use portable air scrubbers in any room inside of your home if you wish. They operate differently from whole house systems and come with their own unique set of drawbacks.
Whole house systems can work with your HVAC system to filter air as it's pulled in. This helps decontaminate air at the source of where it's distributed throughout your home.
While portable air scrubbers are convenient, they require their own filtration system separate from your HVAC unit air filter. Portable units are also fairly loud compared to whole house systems.
How to Know If You Need an Air Scrubber
You can purchase and operate inexpensive air quality monitors. These can tell you the following information about your air quality:
Particulate matter levels
Air quality index
Volatile organic compounds
This information gauges the overall quality of your indoor air, which can definitively determine whether or not you need an air scrubber. But that's not the only way to tell if you need an air scrubber.
If you feel as though you constantly get sick or encounter breathing problems, those could be signs of "sick building" syndrome. Improving your air quality is the first step to creating a healthier living space for you and your family.
Clean Your Indoor Air Like Never Before
Air scrubbers improve your home air quality and reduce your chance of developing sick building syndrome. If you feel that the air quality in your home is lacking, it's time for an upgrade. Talk to an HVAC technician today to learn the extended benefits of air scrubbers and how they could be drastically improving your quality of life.
Contact us today to install a new air scrubber in your home today and breathe cleaner air.