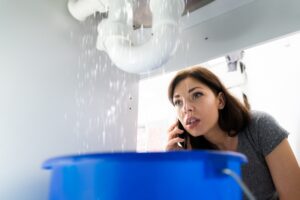 You can DIY some plumbing-related tasks, but at what point do you need to call a plumber? This brief list will help you diagnose your current situation and find out whether you can continue on your own, or if it's time to call a plumber in Akron, Ohio today.
You Can't Stop a Leak
You know water is leaking from a pipe, faucet, or dishwasher, but you can't seem to find the exact source. Most leaks aren't straightforward or solely surface level and require more detailed methods to diagnose the issue. Do what you can to prevent further damage from the leak and contact a plumber.
Resetting Your Water Heater Didn't Work
Many water heaters have a simple reset button. You can remove the access panel from your water heater and attempt to reset it. If this doesn't fix the problem and turn your hot water back on, it's a deeper issue. Sediment buildup or anode rod deterioration could be the cause, which are labor-intensive tasks that need to be handled by a trained professional.
Your Water Pressure Is Still Low
After repairing a pipe or unclogging a blockage, your water pressure is still low. There are so many reasons behind low water pressure that it's difficult to diagnose without understanding every element of your plumbing system.
If you've tried every DIY trick that you can find and your pressure still has issues, you can contact your water company to find out if there are any issues on their end. While this isn't likely to be the case, it's worth a shot. If they don't have any problems on their end, it's time to call a professional.
You Don't Know Where Water Is Coming From
You know there's a problem, but even after looking everywhere you can think of, you just can't seem to find out what that problem is. Having the right diagnostic tools and know-how makes an enormous difference when you're trying to find the root cause of a plumbing issue in your home.
If you can rule out any external factors, such as nearby pipe maintenance or blown mains during colder months, it means you have a stubborn issue on your hands that a professional will need to inspect and diagnose.
Your Drains Won't Go Down
A simple clog is something you can fix on your own. But when that simple fix doesn't yield the results you want, there could be a block in the pipe. Professional service tools do a phenomenal job of clearing out blocked pipes in a way that you just can't with DIY solutions.
Let Us Help You Fix the Problem
Having difficulty diagnosing the problem on your own? Our comprehensive and efficient plumbing service will help diagnose and repair any plumbing issues you may have. Our plumbers help prevent further plumbing problems from occurring with a dynamic, detailed approach to your solution.
Contact us today to get a plumber in Akron, Ohio to your door to help fix your plumbing issues as soon as possible.