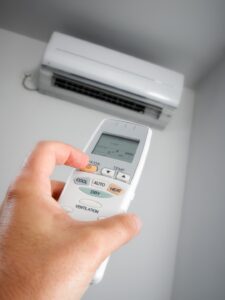 Ductless systems save you energy, which saves you money. Some homeowners think that their installation is the end of the road for their home energy optimization. Spoiler alert: it's not. There's more you can do.
When you have ductless mini splits in Stow, OH, there are three things you can do to get even more out of them. This helps you save energy, money, and may even prevent as many maintenance-related issues in the future. Let's talk about them.
Put Your Ductless Mini Split on Auto Mode
It can be tempting to mess with the remote control, especially if you like your home temperature a specific way. Here's what you should do instead: set the temperature that you like, and forget it. Turn the mini split on auto instead of manually changing the temperature.
When it's in auto mode, your mini split is already trying to find a comfortable level of operation that keeps your home within a single degree of the temperature you set. Reasonably, you won't notice a single temperature of difference and this will help your ductless mini split use the same amount of power on a regular basis.
Stop Turning It On and Off
Instead of turning the power on and off, simply leave it on. It sounds counterintuitive to optimizing your ductless mini split, but hear us out.
When you cool down a warm room, it takes a lot of power to get the job done. If you shut off your mini split before you go to work, and then turn it back on when you get home, you're actually wasting power.
It sounds like a good way to not spend more than you need, but it's much cheaper to run your AC and change the room by a couple of degrees than it is to cool it down after it's had the chance to heat up all day.
Conduct Mini Monthly Maintenance
We're not expecting you to open up each mini split head and tweak it like a professional HVAC technician, but you still have some power here. This is what you can do to make sure your ductless mini split is performing at peak efficiency.
Dust near the intake: Use a simple duster, and dust the area near the intake and the intake vent itself.
Clean the pipes: In your unit, there are pipes that get dust buildup on them. Clean these off with a simple duster once a month and you'll retain excellent efficiency.
Clean the air filter: Pull out the air filter and clean it out at least once per month to reduce the amount of strain on your mini split.
Do What You Can
Your ductless mini split has a long lifespan ahead of it, and some basic monthly maintenance goes a long way to ensure that. With that light five-minute maintenance routine, you can save money by keeping your mini split as optimized as possible. This still doesn't replace annual maintenance, but it's a nice touch to upkeep your mini split until that appointment rolls around.
Contact Crown Group Ohio today to schedule your ductless system optimization so we can tune up your whole system.