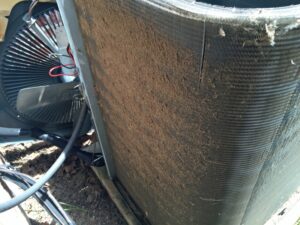 Fall officially starts in less than a month. But that doesn't mean the hot weather abruptly stops: you can anticipate more steady work from your AC cooling down your home and keeping your family comfortable for a bit longer.
But as this is the end of the summer, it's still the right time to analyze how your AC performed over the season. This can help you make some important decisions choices about your cooling system's future. Maybe you overlooked an important air conditioning repair in Hartville, OH and can schedule it in time to prevent it from becoming more expensive. Or you may realize your AC is ready to retire when the fall cool arrives so you can replace it with a new unit. We're here to lead you through this process. We promise it doesn't take long and you'll have a better understanding of where you and your AC are going.
Always consider the AC's age
Here is some hard data you can use about your air conditioning system: how old it is. You can find the manufacture date on the back of the outdoor condenser cabinet; if you don't see it there, write down the model and serial number and then contact the manufacturer or go to their website. An air conditioner that receives regular maintenance can last from 10 to 15 years, often on the upper end. If your AC is more than 15 years old, we strongly recommend a replacement in the near future.
Has the AC received consistent maintenance?
How long an air conditioner can continue to work efficiently and effectively depends greatly on its maintenance schedule. Annual professional maintenance gives the AC the best chance of making it to 15 years without significant loss in cooling capacity or a steep rise in electrical bills. An AC without this annual schedule may find itself in trouble much earlier. If your air conditioner hasn't received annual maintenance, it's probably closer to the end of its service life.
Look for rises in cooling costs
An air conditioner that's well-maintained should retain 95% of its original efficiency rating for most of its life. During the last one or two years, it will start to decline, and this is a good warning sign the system needs a replacement. If your AC is still under 10 years old (and has a good maintenance track record), a rise in costs usually means the system needs a targeted repair—the sooner, the better.
Hot spots and cooling troubles
Did you find yourself complaining about the heat in your house this summer, even when the AC was running? Are some rooms hotter than others when this wasn't the case before? These can be indications the AC has a hidden repair need or, in the case of older air conditioners, that it's declining fast and is ready for a replacement.
If you feel on the fence about what to do with your AC, the best way to proceed is to call the Crown Group team for an expert assessment and opinion. We'll give you honest advice that looks out for your family's comfort.
Call Crown Group Ohio when you need AC repair. Your Comfort Experts Since 1963.