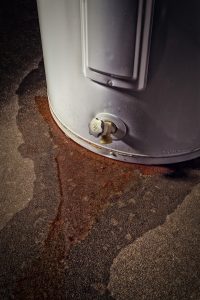 Do you need a new water heater?
We understand why many people would want to avoid asking this question. Much like having to replace an air conditioner, replacing your water heater is no small job. The system is pricey and the job of replacing it takes a good amount of time.
The reality of it is that if you can't rely on your water heater anymore, your money is better spent on a replacement system. You can come to our team for this vital plumbing service in Hartville, OH. Just reach out when you notice any of these warning signs.
4 Signs Your Water Heater Needs to Be Replaced
Not sure if you can make it with another water heater repair this year? Here are the signs that you'd be better off scheduling a system replacement instead.
The tank of your water heater is leaking. There are leaks that can develop in a water heater that are repairable—but a tank leak is not one of them. This leak is something that requires a system replacement.
The system cannot produce reliably warm water anymore. Much like an air conditioner that can't produce cool air, if your water heater can't be relied on to provide warm water anymore, it isn't worth keeping around. This is especially true if the system has gotten all the recommended maintenance and repairs and still isn't functioning right.
Water pressure from the system is extremely weak. Have you noticed that your water heater is producing some hot water but it is struggling to get it to you? If so, then there is a strong chance those water pressure issues indicate a system that needs to retire.
The water heater is over 10–15 years old. An aged water heater may still be somewhat operational, but any system of this age is one you should plan to replace soon. An old water heater will deteriorate more rapidly and won't offer the same efficiency as a new one.
Choosing Your Next Water Heater
If you are looking at replacing your water heater soon, it is a good idea to consider your options a bit ahead of time. This can give you extra time to figure out which system you'd prefer to install in your home. Your options can include:
Storage tank water heaters: These are the standard system found in a majority of homes that keep a certain volume of water heated at all times.
Tankless water heaters: These systems save space, water, and money. These only heat up water when it is required, such as when you turn on the hot water for your bathroom faucet.
Heat pump water heater: These systems are made to save a lot of energy. Heat pump water heaters pull heat from the air around them and use this to warm up the water for your home. This provides warm water with less energy used and helps cool down the area around the system too.
Call Crown Group Ohio—Your Comfort Experts Since 1963. Schedule your water heater service today.