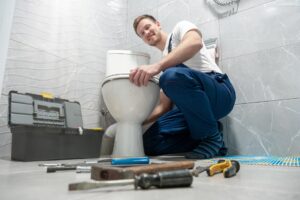 When something goes wrong with your plumbing, the first thought that runs through your head may be related to cost. It happens to all of us. It's not in the budget, it's unexpected, so can you just DIY it and call it a day? It depends on a few things, so let's talk about them.
You may need plumbing contractors in Canton if the task can't be DIY'd, but don't worry: we'll walk you through it all right now.
Installing a New Sink
You want to replace your current sink and put in an entirely new one. That's great, but it's also ambitious for a weekend warrior project. Once you assess your skills and capabilities with this task, consider the following:
What happens if I install the sink incorrectly?
How do I know that what I'm doing is safe?
Where do I turn if I run into an unexpected snag?
Beyond saving your own personal time, one of the main reasons that you should call a plumbing contractor for this is for assurance. They know what they're doing, so there's a much smaller margin of error.
Moving Drains or Pipes
You can install pipes on your own if you know what you're doing. When you move the location of a sink or shower, you have to extend pipes to carry water and figure out how to make the new drain work.
This may sound straightforward, but there are many complications and obstacles that can spring up. Calling a plumbing contractor to take care of these types of jobs for you is advised.
Any Renovations that Include Demo Work
Demo work is something you can't exactly hit the undo button on. Depending on what your project calls for, a plumbing contractor will be able to tell you whether or not a certain area even needs to be accessed.
Having a knowledgeable plumbing contractor handy during the planning stages will also help you understand where you need to expose your existing plumbing for the job, and where you don't.
Building Home Extensions
When you build an extension on your home, you need permits to do it. Many homeowners don't know how to go about getting these permits or which ones to get, and don't know the ins and outs of acquiring one.
Plumbing contractors have been through the wringer with all the red tape before. They know how to navigate permits properly and efficiently, saving you time and frustration. Their experience during the new construction/addition to your home will also help you adhere to those permit restrictions.
It's Likely a Job for Contractors
If you have to spend time researching if it can be a DIY task, it's likely a job for contractors with professional experience to handle. If you're not familiar with the necessary tools and skills required to perform a DIY fix, you'll spend a lot of time (and the cost of new tools) to get it done.
Call professional contractors instead, lean back, and rest assured that your plumbing problems are being handled by the pros.
Reach out to Crown Group Ohio—Your Comfort Experts Since 1963.