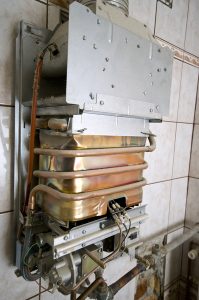 In our last post, we discussed the importance of annual heating maintenance and having it done each fall. Short version: this maintenance is necessary each year to ensure a heating system remains safe, energy efficient, and in good repair during the winter, and that it will reach its maximum system life expectancy.
"But what about an electric furnace?" a few people may ask. "I get why a gas furnace needs to be checked on but is it that important for an electric furnace?"
The answer is: yes! Heating maintenance is a requirement for all types of heating systems, and your electric furnace in Akron, OH is not an exception.
Electric Furnaces Undergo Strain Like Any Other Heating System
It's true that electric furnaces have a longer system life average than gas furnaces. The chemical reaction between natural gas exhaust and the parts of a gas furnace will take a toll, and electric furnaces don't have this issue. But without maintenance, an electric furnace will still fail years too early. You can get 20 years out of an electric furnace with the proper care. Without it, the electrical stress on the system will end its life long before this, possibly giving you only 10 years before needing a replacement. You don't want to toss away a decade of heating the furnace would have given you.
Electric Furnaces Can Pose Hazards Without Care
It's easy to convince people they need to be cautious with natural gas-powered systems. But electrical furnaces can pose safety dangers as well. An electric furnace places a large demand on the electrical system of a house, using more power than most appliances, and this may cause shorts to occur and even fires. (If the furnace starts to regularly trip the circuit breaker, please call us about repairs!) Maintenance examines carefully all the wires and electrical connections to make sure a furnace operates at the highest levels of safety during its service life.
Electric Furnaces Can Waste Immense Amounts of Power
An electric furnace has a 100% AFUE (efficiency rating) because all the electrical power converts to heating. There's no exhaust! But a furnace can start to drain more and more power if it isn't maintained. Dirt along the heating elements is one way a furnace can become pricier to run. Keeping up with maintenance will keep those energy bills in check.
Electric Furnaces Can Break Down—And Take the Electrical System With Them
Maintenance helps you avoid losing your heating system when you need it the most, and an electrical system is as susceptible to a breakdown as any other type of heater. Tune-ups and inspections will see that you won't have the furnace fail during one of the coldest days of the year. It also will stop a breakdown from causing damage to the rest of the electrical system and leave you without power.
All it takes to schedule heating maintenance is to sign up for our Crown Comfort Club, which cares for both your heater and AC each year. You'll receive other benefits as well, such as repair discounts.
Crown Group Ohio is your local comfort experts since 1963. Talk to us today to sign up for our maintenance program and schedule your fall heating maintenance.