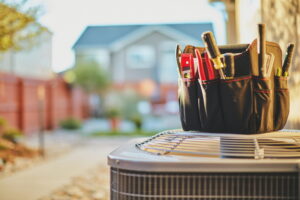 Do you want to get the best from your air conditioning in Stow, OH this coming summer? Maybe that's a silly question, because why would you want an AC that doesn't work well, breaks down a few times, and costs too much to run?
But there's a simple way to help ensure an AC stays in top shape during the summer that many people forget to do, and that's regular professional maintenance in spring. When it comes to AC service, spring maintenance is about as important a service as there is, and we want to make sure you know about it so you'll get the best cooling this summer.
Air Conditioners Need Annual Maintenance
We're not the only HVAC contractor who says this. Everyone who works in the HVAC industry knows how vital routine maintenance is, and the US Department of Energy recommends this service as well. Any hard-working mechanical device will suffer from deterioration over the years unless it has cleanings, adjustments, and inspections. A central AC carries a heavy workload each summer, and it can only take a year for decline to set in. Maintenance slows that decline.
The Specific Benefits of Spring Maintenance
General assurances that an AC is better off with maintenance are nice, but we can give you concrete examples of what professional maintenance does. If you have your home's air conditioner professionally inspected and tuned-up each year, you can expect the following benefits:
Reliable performance: Imagine maintenance as putting armor on your AC before it heads out into battle—a battle with the heat of summer. Maintenance gives the air conditioner the best chance of getting through the season without a problem and providing reliable cooling whenever your house needs it. The peace of mind is worth it.
Fewer repairs: Nobody wants to schedule repairs for an AC that's struggling during the summer, or even fully stopped working. Maintenance cannot guarantee repairs won't happen, but it can prevent more than 50% of them.
Longer equipment life: Wear and tear on any mechanical device will cause it to age and eventually need a replacement. The standard central air conditioner can last from 10 to 15 years, but that's only with maintenance. Without, those numbers could drop in half. Regular maintenance is an investment in getting the most useful years out of your home cooling system.
High energy efficiency: The effects of wear and tear also include forcing an air conditioner to work harder to do its basic job. As an AC's energy efficiency falls, electricity bills will go up. Maintenance slows down this efficiency almost to a crawl: you can expect your AC to only lose about 5% of its efficiency through most of its service life.
Keep the warranty valid: The manufacturer's warranty protects you from having to pay for repairs or replacement that is due to a factory fault. But the warranty may be invalidated if the AC doesn't have regular maintenance.
To arrange for your home's air conditioning system maintenance, all you have to do is join the Crown Comfort Club, which includes both air conditioning and heating maintenance, as well as other membership benefits.
Crown Group Ohio—your comfort experts since 1963. Schedule maintenance for your air conditioning system today through our Crown Comfort Club.