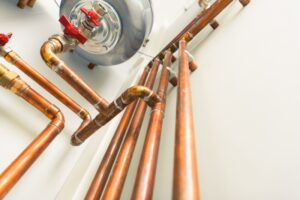 Your plumbing is obviously vital to your daily life, cleanliness, and even your health, but it's out of sight and out of mind. The pipes are in the floor and the walls, so it's easy to pay them no mind. Over time, your pipes will deteriorate and incur problems.
But repiping a house? Is that really necessary right now? It's hard to tell, but these are classic (and critical) signs that you absolutely have to pay attention to. If any of these jump out at you, something's already wrong with your plumbing and needs immediate attention.
You're Patching Leaks Often
Leaks are a sign that your pipes aren't doing so well. When they're constant, and you find yourself using hardware store plumbing putty to patch them up more than every now and again, you've got a looming problem.
Your pipes are trying to tell you that something is severely wrong. While it takes a technician to tell you for sure, it's a classic sign that you could benefit from repiping. Just think about the leaks happening right now that are deeper than the bathroom pipes under the sink that you can access.
Low Water Pressure
You don't know what's going on, but your water pressure just isn't what it used to be. There's not enough force coming out of the faucet, and you even notice it in the shower. It's all over the house, which isn't good.
As your pipes do their thing, minerals can build up and restrict water flow. This is a slow process that takes place over the years, but with regular maintenance, this can be avoided. Still, it's a problem that needs attention, and your pipes might be beyond repair, resulting in repiping.
Rusty-Colored Water
Your water used to run clear, but something's gone wrong. It has a copper tint to it, and you can see little bits of rust come out as the faucet runs. It's a sign that your pipes are breaking down and deteriorating, and your water has become unsafe to drink.
Your Pipes Are Simply Old
If you have information about your house that shows when the last repiping job was done, it's likely between 20-50 years ago. Some pipes can last that long, while others, such as copper, can last even longer.
But if it's been an extremely long time since new pipes were installed, or if there's no information about your pipes available on any of your house's documentation, it might be time for repiping. A technician can inspect your pipes to determine if this is the case.
Is It Time for Repiping?
Did these signs jump out at you? If any of these problems seem like they could be happening in your home right now, you have to take care of them quickly. Call us today to get professional technicians in your home as soon as possible to take care of everything that's wrong with your plumbing.
Contact Crown Group Ohio today to schedule your house repiping or plumbing service.