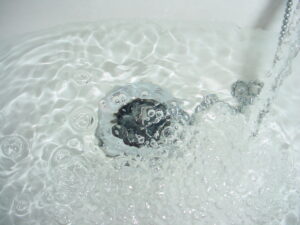 In some ways, a slow drain can be a more insidious problem than a full clog. Why? Well, ask yourself which one of the two is most likely to get you to call a plumber to fix it. A clog is hard to ignore and can bring parts of your life to a halt. A slow drain is easier to ignore and "tolerate," so you may let one continue—until eventually you have a clog, or possibly an even worse problem on your hands.
When a drain starts to only slowly pull water from a sink, or shower, or bathtub, it's sending a warning sign something is wrong. Don't wait on this, hoping it will somehow get better (it won't). Instead, call us for plumbing service in Uniontown, OH. We fix the slow drain and prevent larger problems that might be looming.
The Causes of Slow Drains
Most of the causes of slow drains are identical to the causes of blocked drains, only less extensive. The drain is usually on the way toward becoming completely clogged, but the build-up inside the drain hasn't yet reached that point. Since build-up traps more build-up, the journey from slow drain to clogged drain can be quick.
The common causes of slow drains include:
Soap scum is common in bathroom sinks and bathtubs.
Hair clogs, which are troubles for many shower drains.
Calcium and other mineral deposits often indicate the water in a house is too hard, and the water main may require a water softener to counteract it.
Organic build-up, such as food waste and solidified fats, oils, and grease (fog). This is the most common clogging problem for kitchen sinks.
The Sewer Line Problem
There's another major source of slow drains that has nothing to do with build-up in the drainpipes. If there are slow drains starting up all around your house, not just in one drain, it usually means something is wrong in the sewer line or other part of the larger drainage system. This is an urgent problem since it can lead to catastrophic damage if professionals don't repair it. Please don't wait to call for plumbers when you have multiple slow drains.
Solving the Slow Drain
You do have some safe remedies for slow drains you can try on your own. Sometimes a plunger can fix the problem. Hand-craked drain snakes are useful for pulling out hair clogs. But don't use chemical "drain cleaners," which will often harm the drains and aren't even thorough at doing the actual cleaning.
When safe home remedies won't fix your slow drain, call our professional plumbers for drain cleaning. We can safely scour out the interior of the drainpipes so they'll be like new again. If the source of the slow drain is something more serious in your plumbing, you can trust us to handle it as well. Plumbing upgrades can make many common drain problems vanish. We'll consult with you to find the solutions that work.
Look to Crown Group Ohio for the plumbing services you need. Your Comfort Experts Since 1963.