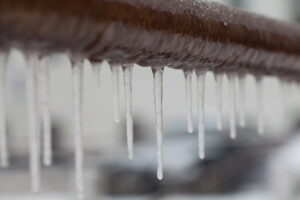 A frozen pipe can not only bring a home to a standstill and cut off water flow to tap and appliances, but it also threatens to cause the pipe to burst. Handling frozen pipes is one of the major plumbing services in Akron, OH we offer during the season, and we're available 24/7 when you've got plumbing trouble like this.
If you want to know what to do about a frozen pipe in your house, this post can help. If you want to prevent frozen pipes in the future, this post can help even more, so stick around…
How to Fix Frozen Pipes
This is actually simple. If you search around the internet, you'll find plenty of advice about thawing frozen pipes, but the truth is that you should never try this on your own. Attempting to thaw a pipe with most methods either won't work or will hasten the pipe bursting. The true solution is to call our plumbers to take care of it. We're fast, we're on-call 24 hours a day, and we can thaw (or replace) frozen pipes without causing bursts or flooding.
How to Stop Frozen Pipes
If frozen pipes have plagued your home before, or you want to make sure they never start bothering your home, here are the preventative steps to take:
Insulate exposed pipes: You can't do much about the pipes in the walls and floors of your home, but these pipes have a lower chance of freezing. It's exposed pipes you need to focus on, which are often in unheated areas of the house like the basement. You can purchase special pipe insulation sleeves from home improvement stores and cut them to length so they wrap easily around the pipes.
Allow water to flow from taps: A small amount of water movement in the pipes will stop them from freezing, so we recommend that you allow water to run from all the taps each week. The target taps, in this case, are the taps that rarely receive use, such as in unused bathrooms.
Let air circulate under sink cabinets: The drain pipes under sinks need the circulation of warmer air from the house to protect them. You can do this by opening up the cabinets for an hour or two during the coldest days to expose the pipes to the heated air of your house.
Disconnect outside hoses from bibs: One way ice can easily get into your pipes during winter is by coming through the hose bibs. If hoses are still attached to the bibs, the water still in the hose will freeze and enter the indoor pipes. Detach the hoses from the bibs before the cold weather arrives, drain the hoses, and then store them indoors.
Keep the heater on when you aren't home: When you're going to be away from home for more than a day, set the thermostat to 55°F so the house will remain above freezing—and the pipe will remain above freezing as well.
Call Crown Group Ohio to help stop your pipes from stopping your house cold. Your Comfort Experts Since 1963.