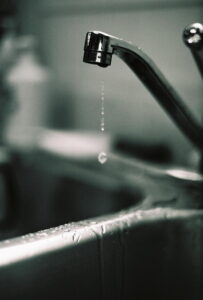 When you turn on the shower in the morning, does it feel like you're standing under a small watering can rather than a force of water that can help you scrub clean? Is it tough to get any dishes cleaned in the sink because the faucet is only dribbling water? Is it taking hours to fill up the ice cube tray? You've got low water pressure in your house, and it's not something you want to ignore!
Low water pressure is often a sign that there's something wrong with your plumbing in Akron, OH, and it may require the help of our expert plumbers. Below we're going to go over some reasons for low water pressure and what you can do to correct the problem.
First: Is the low pressure at only one tap or all throughout the house?
If you are only experiencing low water pressure at a single tap, such as a showerhead, then the plumbing issue is likely restricted to that tap alone. Clean out the aerators in the faucet heads to remove silt, as this can often solve the problem. If you can't find a basic reason for the low pressure at that one tap, it may take a plumber to fix or replace the fixture.
If the low water pressure is everywhere, please continue…
A municipal issue
A sudden drop in water pressure in your house might not have anything to do with your residential plumbing. It could be a municipal problem originating from the local water company. You can check with your neighbors to see if they are experiencing similar issues. If they are, call the water company to see how long the problem may persist.
A broken pressure regulator
Your house may have a pressure regulator installed to help with high-water pressure problems. You might not even know it's there: the previous owner could have had it put in because of high water pressure. If this valve malfunctions, it can cause water pressure to drop too far.
A stuck water main valve
The main water valve for your house, which is located near the water meter, can become stuck and cut off the flow of water from the water main into the indoor plumbing. Have you recently had any plumbing work done that required you to shut off the water temporarily? If so, the valve may not be fully open. The valve may also be worn down, in which case you'll need to have a plumber take a look at it. 
Problems with the water line
The water main for your house is buried out of sight and you probably don't give much thought to it. But when water pressure in your house drops and you don't see another explanation for it, it may be the fault of clogging or deterioration of the water main. If your house is more than 50-years-old, the water line is probably made from outdated material that has started to corrode, which can create leaks as well as blockages. The main may also have picked up mineral deposits from hard water that have reduced the volume of water. 
You won't be able to look at the water main on your own: call our plumbers to investigate. We have tools to locate the problem and then find a solution.
Call Crown Group Ohio: Your Comfort Experts Since 1963.